Crane Attachments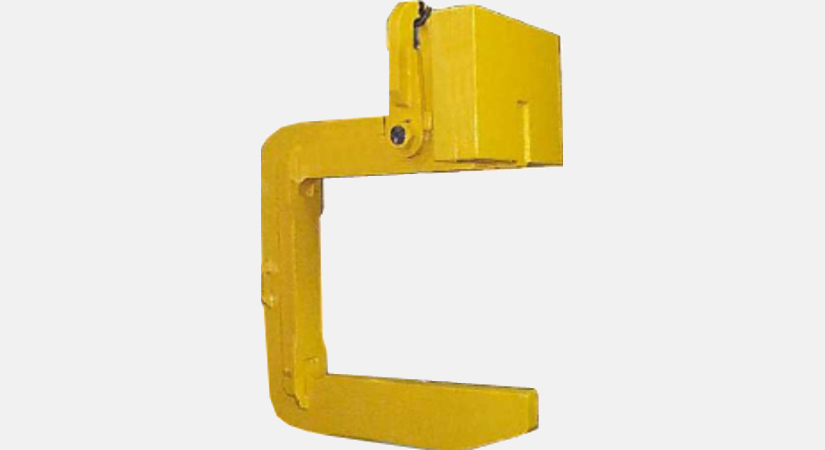 C Hooks
C hooks are used mainly steel industry for handling steel coils with Eye in Horizontal Position. C hooks of 5T to 40T Capacity are available to meet specific need of customer. C hooks are made from heavy steel plates. The cutting is done with critically stressed zone placed along the direction of rolling. Soft wearing pads are provided on base and vertical leg if so required by customer to avoid scratching on finished product. Appropriate counter weight is provided to balance the hook.
Motorised Horizontal Coil Tong
Vertical coil tongs are used for lifting coil with Eye in Vertical direction. Made from high tensile plates, the coils is gripped by tong jaws. Automatic lock is provided to keep the tong in open position for engaging with coil before lifting.
Lifting Beam
Lifting beam are used in steel plants for lifting hot metal ladles and in engineering industry/ power plants for lifting heavy loads using two cranes in tandem.
Ladle handling lifting beams can be designed for suspension from a single C shank or Ramshron hook with two laminated plate hooks or can be supported by a set of pair of pulley system and forming integral part of the crane. Heat shields, wearing liner in lifting eye, forged clevis are some of the special features offered to meet customer requirement.
Lifting beams are used for load handling with two cranes in tandem are generally high capacity and are designed to specific requirement of customer. These can be supplied with plate hooks, lifting pins or with a central shaft supported on bearing as per the specific handling requirement of customer. Aditya Cranes has supplied lifting beam of 280 MT capacity and we can supply lifting beams to handle loads up to 500 MT or more.